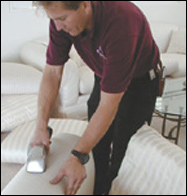 CALIFORNIA CARPET CARE is the leading carpet, upholstery, and rug cleaning company servicing the state of California. We are unsurpassed in the quantity and quality of services we provide.
Customer satisfaction is the first priority at CALIFORNIA CARPET CARE. We have over 10 years of experience and know that in the carpet cleaning business, a satisfied customer is the best marketing tool. We have a team of experienced professionals that are trained to handle a wide variety of cleaning needs, from the messiest stains to basic maintenance.
Some of the services we provide are:

Carpet Cleaning
Area Rug Cleaning
Furniture Cleaning
Drapery cleaning
Leather Cleaning
Water Removal
Pet Odor Removal
Deep Cleaning
Sanitizing
Deodorizing
Fabric Protector
Preconditioning
Stain Removal
Plus more....just ask !
CALIFORNIA CARPET CARE provides specialized upholstery, rug, and carpet cleaning services for both residential and commercial customers. We will tailor our services to meet your needs.
---
We are fully licensed, insured & bonded.
We are available 24 hour / 7 Days a week.

Join our many satisfied customers,
call us today at: 877-899-0401

---
CALIFORNIA CARPET CARE provides services all throughout California. Find the location nearest you and call today!

CALIFORNIA CARPET CARE - Irvine
Alton Parkway
Irvine, CA 92618

CALIFORNIA CARPET CARE - Los Angeles
W Martin Luther King Boulevard
Los Angeles, CA 90037

CALIFORNIA CARPET CARE - San Diego
Imperial Avenue
San Diego, CA 92102

CALIFORNIA CARPET CARE - San Francisco
Haight Street
San Francisco, CA 94117

CALIFORNIA CARPET CARE - San Jose
Senter Road
San Jose, CA 95112

CALIFORNIA CARPET CARE - Santa Monica
Ocean Park Boulevard
Santa Monica, CA 90405