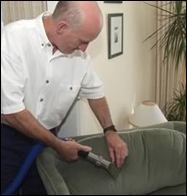 Rugs can be deceptively clean. Dirt and dust can hide within the fibers of the rug and slowly wear away those fibers without you even knowing. To prevent this, it is recommended that you get your rug cleaned by a professional at least once a year.

Some of the many rug services we offer are:

Rug Cleaning
Rug Repair / Rug Re-fringe
Rug Restoration
Rug Pet Stains and Odor Removal
Rug Hand Wash
Rug Antique Wash
Domestic or Hand Made Rugs Cleaning and Repair
RUG FREE PICK UP & DELIVERY

For a Free Estimate of your Rug Cleaning call us at:

877-899-0401



---
Our Rug Cleaning Methods:
Rug dusting should be the first step in any cleaning process. Rug dusting has been around for ages and is most likely the technique you think of when you think of rug cleaning. Our grandparents used to perform rug dusting by beating the rug with a stick or a carpet beater. This removes all the loose dirt and dust collected in a rug. However, this method can cause severe damage to the fibers of the rug. Our preferred technique for rug dusting is to use compressed air and gently blow the dirt and dust from the rug. This is just as effective, but less damaging to the rug.
Now that the loose dirt and dust have been removed, the rug is prepped before being placed into one of our large fresh water baths. Preparing a rug includes determining the color bleeding capabilities of the rug. If the colors have a high chance of bleeding, we will apply a color blocker to the rug to protect it.
Once in the bath, our skilled technicians gently hand wash the rug with natural cleaners. A continuous stream of fresh water flows through the rug allowing it to rinse away any additional dirt and residue.
If the rug has strong odors, we can place the rug in our decontamination bath. This bath has two large rollers that are used to press the odors out from the rug. Fresh water flows freely through the bath and carries the odors away along with the current.
After a final rinse, the rugs are sent to dry in one of our many temperature controlled rooms. These rooms utilize triple fanning systems that dry rugs efficiently and thoroughly. The drying process also gives our technicians time to inspect and clean all the fringe of your rug.
The rug is methodically groomed once drying has complete. Each rug is carefully rolled and wrapped in a protective carrier to keep it protect it from dirt during transport. We deliver all rugs to your door and would be more than happy to unroll and place it wherever you wish.
Rug Cleaning Tips