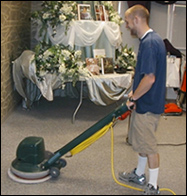 Having your wood floors professionally refinished has many benefits. It will protect the floor from future damage, increase the life span, and makes it look better than it ever has before. Most importantly, it increases the overall value of your wood floor.
Our flooring professionals are dedicated to making this a bearable experience for you. They use top of the line equipment that minimize the dust and noise produced by refinishing. They are also extremely careful to protect your furniture and valuables from any dust that is created in the process

Refinishing will leave your wood floor with a natural look, color, and texture.
Our refinishing services include:
Wood Floors Sanding
Wood Floors Filler
Wood Floors Sealing
Wood Floors Finishing
Wood Floors Waxing
Wood Floors Refreshing

For a Free Estimate call us today:

877-899-0401